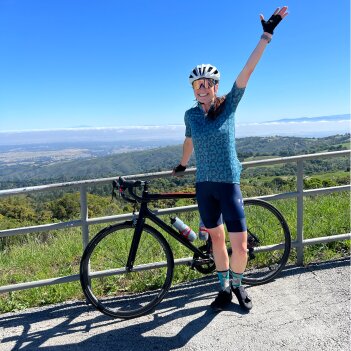 In honor of Linda
Held by
Jen Petersen
Cypress Challenge 2023
On Sunday, July 30th, I am riding up Cypress - my favorite local climb! - raising awareness and funds for pancreatic cancer research and care at BC Cancer. I almost never participate in fundraising rides because I'm somewhat ambivalent about that sub-sector of the cycling events industry. This year, however, I am grieving the recent loss of a beloved neighbor, Linda Fox, who received her own pancreatic cancer diagnosis about a month before her death in June.
This year, more than 800 British Columbians will be diagnosed with pancreatic cancer. Its projected that only 10 per cent (or 80 of those people diagnosed) will live five years.
Pancreatic cancer is difficult to detect at an early stage and is often resistant to treatment. Although it is the tenth most common cancer in Canada, it is the fourth leading cause of cancer death.
Unless more effective treatment strategies are found, pancreatic cancer in Canada is projected to become the second leading cause of cancer death by 2030.
Science can help, but it is expensive!
Since 2008, Cypress Challenge has raised over $4 million and its thanks to the generosity of community members like you. Together, we can drive innovations in research and enhance care to benefit each person facing this disease.
With your help, BC Cancer can continue its vital work to break down this deadly disease.
Please consider making a donation.
thank you!
Jen Petersen